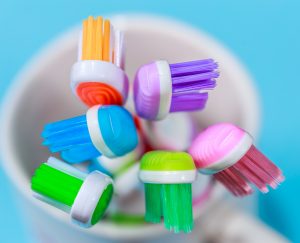 At Priority Dental in Casper we can't do enough to stress the importance of dental health. It's more than having healthy teeth and gums: the link between dental health and overall health is by now well-established.
This means that brushing and flossing your teeth each and every day, without fail, is essential to your overall well-being. Brushing twice a day is better, and after every meal is best of all.
There are lots of different types of toothbrushes out there. Choosing one is largely a matter of personal preference: something that fits easily into your mouth and feels good in your hand are important considerations. Manual or electric? Both do a good job, though people with agility issues like arthritis may do better with an electric brush.
Whatever style you choose, we strongly recommend a toothbrush with soft bristles. They are the easiest on your teeth and gums and still do an excellent job of removing plaque and food debris from the surfaces of your teeth.
Alternatives
But nothing is ever easy any more, is it? More and more people are choosing alternatives to traditional plastic brushes. According to one source, more than one billion plastic toothbrushes end up in landfills every year in North America alone! It takes hundreds of years for these plastics to decompose.
Because of this, non-plastic toothbrushes are becoming more popular. Manufacturers make them out of sustainable materials like bamboo, wood, recycled paper, and recycled plastics. Some companies even have programs to recycle their used toothbrushes.
At the end of the day, the choice of toothbrush is yours. At Priority Dental in Casper we think brushing is the important thing, along with regular checkups. People from Riverton, Thermopolis, and Douglas come to us for family and restorative dentistry. Schedule your next checkup today!
Contact Priority Dental:
Location (Tap to open in Google Maps):