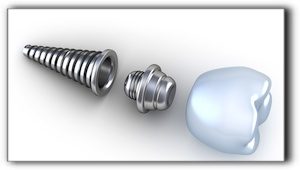 The key to a successful dental implant is osseointegration: the fusing of the implant with the patient's jawbone. At Priority Dental in Casper we have performed many dental implants, and are proud that they have a success rate greater than ninety percent.
Some patients think of dental implants as replacement teeth. But strictly speaking, a dental implant is a titanium post that is inserted into the jaw, where it replaces the missing tooth root. One or more of these posts can support an artificial crown, bridgework, or even a set of dentures.
The entire procedure hinges on the implant attaching to the bone. And this is the real beauty of it: dental implants are made from titanium, a strong but light metal with a unique ability to fuse, or join, with the bone. There's actually a word for this: osteophilic, which means "bone loving." This unique property has made titanium the material of choice in dental implants.
Dental implants have a remarkably high success rate: over ninety percent. The biggest threat to an implant is infection. That makes it critical to keep a dental implant clean – as important as with natural teeth. Plaque collects on and around implant crowns the same way it does on teeth, so it is up to the patient to remove it every day. And that, of course, means brushing and flossing.
Like all technology, dental implants are constantly advancing. In the near future, dental implants are expected to have features that eliminate bacteria. That could mean an even higher success rate.
But it all begins with the titanium post, and osseointegration. At Priority Dental in Casper we offer dental implants and a full range of family dentistry services. Schedule an appointment with us today.
Contact Priority Dental:
Location (Tap to open in Google Maps):